You are about to renew your membership to Fidelity Monitor & Insight.
Whether your objective is aggressive growth or capital preservation, one of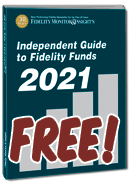 Fidelity Monitor & Insight's carefully constructed and constantly monitored model portfolios can help you reach your goals.
And best yet, when you renew now, the all-new 2018 Independent Guide to Fidelity Funds (a $45 value) is yours FREE!