Market Outlook
May 31, 2019
Trade Hangs Over Markets

On May 5, President Trump tweeted he was raising the tariffs on $200 billion of Chinese goods from 10% to 25% and threatened to impose a 25% tariff on an additional $325 billion of Chinese goods "soon." China quickly responded by raising tariffs on certain U.S. goods by 5% to 25%. This escalation in the trade dispute (now add Mexico!), at a time when global growth is already weakening, sent stocks tumbling (and bonds rising) last month. The S&P 500 fell 6.4% for the month while U.S. Bond Index rose 1.8%.
Of course, concerns over trade have been overhanging the markets for some time, but the difference now is that many market participants are coming to the belief that this dispute has become a full-blown "war" — and wars can last for a very long time. While the direct effects on the U.S. economy may not be large, the effect on business investment is a bigger worry. Orders for non-defense capital goods excluding aircraft (a proxy for business investment) are already showing close to zero growth (see chart). Continuing uncertainty around trade is likely to increasingly weigh on corporate spending plans which could lead to slower growth. And that, in turn, could continue to weigh on stocks.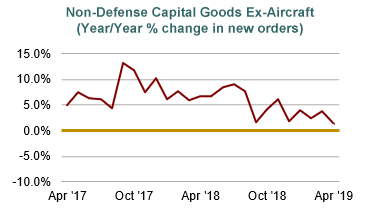 However, that could all change this month as Trump is expected to meet with Chinese President Xi Jinping at the G20 summit. A positive statement out of that meeting could be the balm the markets need. But we have had numerous head-fakes on the likelihood of a deal before, so the markets may not be as accepting this time.
Other data also suggest a slowing economy, notably industrial production where, like business investment, year-over-year growth is sliding towards zero.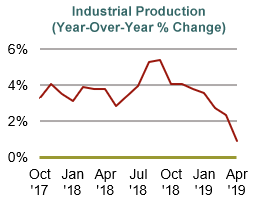 Yield Curve Inverts Again
As noted, bonds rallied sharply in May with the yield on the 10-year Treasury falling from 2.51% at the end of April to 2.14% at the end of May (bond prices move in the opposite direction of yields). This resulted in another inversion of the yield curve between the 10-year and 3-month rate (2.35%), raising recession fears once again. I've discussed this issue in detail in the past so I won't go over that ground again.
Not All Is Bleak
While the markets are focused on these and other signs of economic weakness, there are pockets of strength as well. Thanks to the plunging yield on the 10-year Treasury, mortgage rates have also come down sharply (just dipping below 4%), which has helped new home sales through April to run 7% higher than last year. The labor market remains strong as well, with initial claims for unemployment continuing to plumb historic lows. Importantly, corporate earnings have been better than forecasted. While many forecasters were calling for a decline in first-quarter earnings, with 485 of the S&P 500 having now reported, earnings are up 4.6%. And estimates for the balance of the year are for similar, if slightly more modest, growth.
Fear Rules The Market
While the economy is certainly slowing, with second-quarter GDP growth now expected to come in at around half of the first-quarter's recently revised 3.0% figure, the markets appear to be discounting a far greater slowdown, if not outright recession. The Fed Funds futures markets are currently putting the probability of a Fed rate cut by the end of the year at 84%! And a sizable number are expecting two cuts!
Indeed fear is ruling the markets. Bullish sentiment in the weekly survey by the American Association of Individual Investors slumped to 24.8% as of May 29, well below its historical average of 38.5%, while bearish sentiment jumped to 40.1% versus its average reading of 30.5%. By-the-way, the last time bullishness was this low was this past December — right near the bottom of the near-bear-market (a 19.7% loss in the S&P 500) that began that October. And the CNN Fear & Greed Index is once again registering extreme fear as it was then. I've said it many times before, but it bears repeating: Bull markets typically end in greed, not fear.
Stay Cautious
Last month I cautioned against ramping up your stock exposure chasing the rising market. I continue to advise taking a cautious approach. In fact, now may be a good time to examine your portfolio with your risk tolerance in mind. The current downturn could easily morph into a correction of 10% or more, so if you can't stomach that, consider one of our less aggressive models.
However, if you are otherwise comfortable with your equity exposure, don't succumb to the temptation to dump stocks now to chase after strong-performing bonds.
— John M. Boyd