Market Outlook
July 31, 2019
Investors' Love Affair With Bonds Is Good For Stocks

Last month I discussed how, despite the fact that bonds were unattractively valued versus stocks, professional fund managers had the lowest allocation to stocks versus bonds since the current bull market began. This is even more true for individual investors. In just the last year and a half, investors in mutual funds and ETFs have pulled an estimated $108 billion out of equities while pouring $309 billion into bonds. And that trend has clearly accelerated this year as shown in the graph below.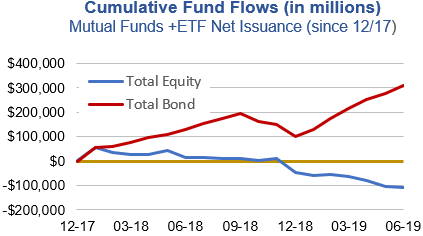 If you think that such a large gap in flows seems very unusual, you're right. According to the investment firm AllianceBernstein, so far this year, the difference between flows into equity funds versus bond funds is three standard deviations below normal and is the lowest level in the 15 years they have been tracking this data series. (For the non-statisticians out there, only 0.26% of all values in a normal distribution fall more than three standard deviations higher or lower than the mean or average!)
Why is this note-worthy? Well, over those 15 years, there were five prior occasions when the gap was two or more standard deviations below normal. In all those cases, the stock market was higher over the next six and 12 months with average gains of 10% and 17% respectively. This is not surprising as investment markets are generally "mean-reverting," which simply means that when something gets significantly higher or lower than its long-term average it tends to "correct" back towards that average. And if that happens with fund flows and money starts to move out of bonds and into stocks, that would provide additional fuel to propel stocks higher.
Second-Quarter GDP Solid
The first estimate of second-quarter GDP growth came in slightly ahead of forecasts at 2.1%. While this is down from the first-quarter's 3.1% growth, the internals of the report are more encouraging. The main reason for the drop off was a large reduction in inventories, i.e., sales for the quarter were greater than new production. In fact, if inventories had simply stayed level in the second-quarter, growth would have nearly matched the first-quarter at 3.0%.
Another bright spot was personal consumption which rose a robust 4.3% up from just 1.1% in the first-quarter and the fastest rate in a year and a half. If sales keep up, with inventories down, we could see a pick-up in production that would be a positive for the third-quarter. Also important was that the PCE index (which the Fed favors as an inflation gauge) rose just 1.4% year-over-year, well below their 2.0% inflation target.
On the negative side was a 0.8% drop in business fixed investment, the largest decline in three and a half years. Given all the uncertainty around trade this is not surprising and investment will likely to continue to be lackluster until there is more clarity around trade, especially with China. Overall, this is a solid report for stocks. Of course, all this comes with the caveat that it is only the first estimate and there will be two more estimates to come which could mean some revisions.
Earnings Comps To Get Easier
Standard & Poor's estimates that second-quarter earnings for the S&P 500 will grow just 2.1%. This includes the effects of stock buy-backs which remain strong. And the third-quarter projection is for just 1.3% growth.
However, starting with the fourth-quarter of 2019 and through 2020, estimates pick back up to double digits. Why?
Because, as shown below, in the fourth-quarter of 2017 through the third-quarter of 2018, earnings received a one-time boost from the tax-cuts, with gains of over 20% in each of those quarters. This makes for tough comparisons in 2018-19. Now, after four quarters of low-single-digit gains, comparisons will be much easier moving forward. Of course, that's no guarantee of better earnings growth, but the bar will definitely be lower.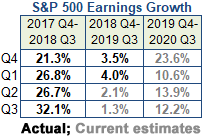 Fed Cuts Rates As Expected
As widely expected, the Fed cut rates by 25 basis points (0.25%) at the end of July. The immediate impact on the stock market may not be that great given that it was largely "priced-in." But according to LPL Financial, the longer-term outlook for stocks when the Fed cuts rates — outside of a recession — is quite good. The last five times they did so (1984, 1987, 1989, 1995 and 1998) the S&P 500 was up an average of 11% over the next six months and 16% over the next year.
— John M. Boyd