Market Outlook
January 31, 2020
Coronavirus Market Impact Is Likely Only Short-Term

Fear over a new strain of coronavirus (similar to SARS) gripped the stock market leading to a selloff that trimmed 734 points (2.5%) off the Dow in the last week of the month. While strong earnings reports helped to ease those losses, they were no match for the rising tide of fear. We are just in the early stages of this outbreak, so we don't know how significant it will become. The good news is that this virus appears to be far less deadly than SARS (the mortality rate is estimated to be about 3% or 4% vs. 10% for SARS). The bad news is that it seems to be spreading more easily. There are more cases of this virus in China after one month than there were SARS cases in six.
Will this lead to a much bigger market decline? I believe that the market will remain at risk of a steeper correction, but probably not a bear market, should things worsen significantly. But, unless this morphs into a pandemic like the 1918-'19 Spanish flu, which killed 50 million worldwide (by comparison, SARS resulted in about 800 deaths), history suggests the markets will regain any lost ground quickly. As shown in the table below, the impacts of similar outbreaks have been very short-lived. Dow Jones Market Data examined 12 epidemics since 1981, and on average the market was up 9.3% over the next 6 months and up 14.2% over the next year.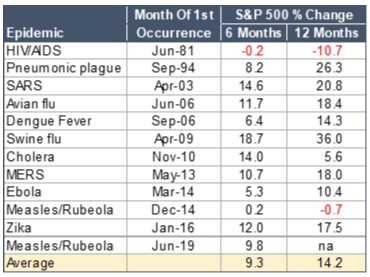 This is not to downplay the ultimate human cost of this outbreak, nor the potential damage to China's economy and the impact that it may have on global growth. But, the U.S. economy and stock market should be relatively unscathed.
Stocks Still Your Best Bet
There are several reasons why stocks remain attractive. First and foremost, as I have noted before, is a Fed that has the market's back. They have made it clear that they are not raising rates this year even if that means letting inflation run in excess of their 2% target for some time. And they're poised to cut them if the economy deteriorates. But there are some fundamental reasons as well.

Stocks Cheap vs. Bonds
One way to value stocks versus bonds is to compare the yield on the 10-year Treasury bond (1.51%) to the earnings yield on the S&P 500 (4.88%). Typically the ratio between the two is close to 1.0 (see chart below) but today that ratio is over 3-1 in favor of stocks. Another way to gauge relative value is to calculate a "P/E" for the 10-year by dividing 100 (par price) by its yield (earnings) which gives us 66.2, compared to 20.5 for the S&P 500! Which means stocks are selling for less than one third of the 10-year. (Note: We often hear pundits comparing today to the dot.com bubble in the late 90's. However back then, stocks were selling for 183% more than bonds.)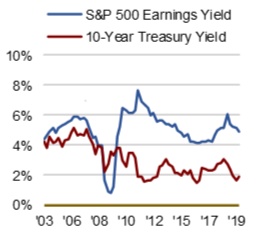 Despite this valuation difference, money is still flowing out of stocks and into bonds. Not what you typically see at market tops. In fact, assets in money market funds (where investors go when scared) are nearing the peak reached during the Great Recession! This is usually seen at market bottoms.

Stocks Prosper With Low Rates
Stocks generally outperform bonds over the long term, but they do particularly well when interest rates are low. When the 10-year Treasury yield is greater than 3%, stocks have bettered bonds by an average of 2.3 percentage points per year. But when the 10-year is below 3% (it was 1.51% at the end of January), stock returns have been more than six times better.

Earnings Picture Improving
The main reason why stocks haven't reacted more severely to the coronavirus is that fourth quarter earnings so far have been better-than-expected, including blowout earnings from Apple and Microsoft and Amazon. Moreover, we are seeing the first indications that analysts are feeling better about earnings for 2020 as, so far, reductions in those estimates have been much less than we saw for the back half of 2019.
Stick With Your Plan
The coronavirus outbreak is very likely to get worse before it gets contained. Expect continued bouts of selling until then (some of the excess bullish sentiment I spoke of last month dissipated with the recent selloff, but there is likely more to go). But, unless it becomes a major pandemic like the Spanish flu (in which case we all have more to worry about than our investment portfolios) it should not derail this market longer term.
— John M. Boyd