Market Outlook
May 31, 2021
Relative Sector Performance Suggests This Bull Isn't Done

Last month I talked about what I saw as positive for stocks in the current environment and what I saw as troubling. Let me update some of those points and also introduce some new ones.
Robust corporate earnings topped my list of positives last month as I noted that April's earnings estimates were higher across the board (Q1 2021 through Q4 2022) as compared to March's. Well, May's estimates were higher across the board than April's! In just the last two months, earnings for the first quarter of 2021 jumped 22%! Here is an updated chart showing how estimates have risen from March to May.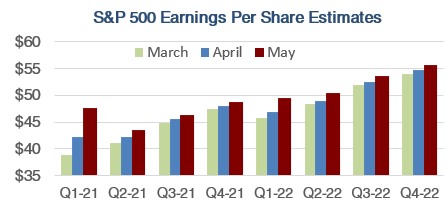 On the other hand, we saw the first tiny crack in the "pedal-to-the-metal" stance from the Fed, as they began to "talk about talking about" tapering their bond purchases. That, along with a big jump in inflation, might have been expected to push bond yields higher, but after some initial turmoil, the yield on the 10-year Treasury actually declined in May from 1.65% to 1.58%. Stocks weathered that subtle shift without too much difficulty, as well.
I raised strongly bullish investor sentiment as a concern last month, but that has moderated with the AAII sentiment index of bullishness falling back to its long-term average.
Lastly, I cautioned about high valuations, but detailed how — thanks to the aforementioned robust earnings growth — stocks had room to rise, while still bringing valuations down. The P/E of the S&P 500 at the end of 2020 was 30.7, but for the first quarter of 2021, that has come down to 27.37 — still historically high, but trending in the right direction.
Sector Ranks Favor Bulls
Mark Hulbert highlights an analysis by Ned Davis Research that looked at which of the 10 sectors (ex-real estate) that make up the S&P 500 fared best during the last three months of all bull markets since 1970. They found that the best performers at the end of a bull were consumer staples, health care and consumer discretionary. Today they are in fifth, seventh and ninth places, respectively. And, the sectors that typically have done the worst, financials, energy and utilities, are currently in second, third and sixth place. Doesn't look like we are near the end of this bull on that score.
Panic Selling?
Thomas Lee, founder of Fundstrat Global Advisors, points to a "panic event" recently that argues for further upside. In mid-May, the NYSE Tick Index (the number of stocks moving up less those moving down) plunged to -2069, one of the worst readings since 1990. While that may seem bearish, actually it typically signals a bottom instead. In fact, the average return of the S&P 500 after the 10 worst readings prior to the current one was 12.6% after three months and 21.6% after six!
As noted, a sharp uptick in inflation spooked the market last month and will no doubt be closely watched as we go forward, adding to the potential for increased volatility. But, stay calm as the weight of the evidence suggests further gains from stocks this year.
— John M. Boyd