Market Outlook
November 30, 2019
Stocks' Strong Performance Suggests Further Gains Ahead

Recently, Mark DeCambre of MarketWatch pointed out a favorable fourth-quarter trend. Over the past 70 years, whenever the S&P 500 is up at least 20% at the end of October (there were seven prior cases before this year's 23.2%), it has always added to those gains over the last two months of the year, with an average return of 6.2%. We are more than half way to that goal after November's strong 3.6% gain.
Indeed, from the beginning of October through late November, the S&P 500 registered six straight weeks of gains which, as it happens, also forecasts more gains to come.
According to Chris Ciovacco of Ciovacco Capital Management, since 1982 there have been seven prior instances of such a six-week surge beginning in the fourth quarter. He found that while short-term returns were mixed, one year later the market was up in six of those cases with an average return of 8%. The one miss was only a fractional decline. Two years out, returns were positive in all cases with an average two-year return of 14.9%, as shown below.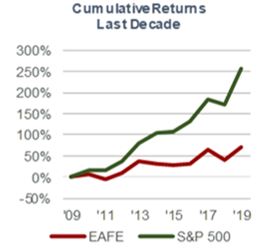 Of course, while historical trends can be useful in helping to guide your investments, relying only on one (or even two) indicators as your sole rationale is not a sound practice. So let's take a look at some other factors that should keep stocks moving higher.
The Fed Has Your Back
After raising rates too high in 2018, then having to cut them in 2019 when faced with a slowing economy, I suspect that the bar for lowering rates if the economy weakens further is a lot lower than the bar for raising them should the economy start growing faster. And the Fed is back to increasing its balance sheet by buying bonds (to help stabilize the Repo market). In short, one can expect abundant liquidity from the Fed (and other major central banks as well). In fact over the past three months, the money supply (M2) has been growing at over 10% — much higher than GDP, so liquidity is on the rise. With the Fed providing excess liquidity, if growth remains sluggish and inflation remains subdued, stocks will still look like the best place to earn a decent return. The "TINA" trade (There Is No Alternative) would still be on.
Thin Reeds (Part 2)
Last month I noted how the Markit Flash U.S. Manufacturing PMI (purchasing managers index) rose to 51.5 versus 51.1 in September. Now November's reading is in at a much more substantial increase to 52.2 — a seven-month high. And Markit's Manufacturing Output Index which rose from 51.8 to 52.7 in October is up to 53.1 in November — a 10-month high. These are still modest figures, but the continuation of a positive trend is welcome. If we really are seeing a bottoming in the manufacturing sector and the overall economy starts to improve, stocks should again benefit. An increased risk appetite tied to the improving outlook, coupled with a Fed that is likely to stand pat (letting inflation rise above their stated 2% target for some time before considering raising rates) would form a solid backdrop for stocks.
No Irrational Exuberance
Despite the market's impressive return so far this year, individual investors have still remained cautious, with the recent bullish readings in the AAII sentiment survey still below average. Not the behavior you see at major market tops.
There Are Still Risks, However
Despite the "thin reeds," the fact is that the economy is slowing, perhaps quite sharply. GDP forecasts for the fourth-quarter by the New York Fed (0.7%) and the Atlanta Fed (0.4%) are close to stall speed and down significantly from the third-quarter's 1.9%. It should be noted that private economists are much more optimistic. While we don't see a recession next year, it must be acknowledged as a risk.
Corporate earnings estimates for the fourth quarter of 2019 and the first quarter of 2020 are still being marked down at a greater pace than we have seen in four years. This could weigh on the market in the early part of 2020, but could provide support later if the economy improves and earnings are better.
Trade Still Looms Over All
The shifting statements (and tweets) from each side about the status of the trade negotiations between the U.S. and China still move the market — but perhaps with less of an impact given all the false signals. Right now it appears that the market is simply "pricing in" that the situation won't get worse. If it does, that could cause a selloff.
If there were no risks investing would be easy, no? But it would also not be very profitable. (Assuming a reasonable degree of risk is how investors get paid.) Even with the risks noted above, stocks remain attractive for long-term investors.
— John M. Boyd