Market Outlook
December 31, 2020
Stocks Remain Attractive, But ...

If most of us can't wait to say goodbye to 2020 and the various deprivations we've had to endure, stock investors might want to think twice about that. Despite an economy knocked to the mat last spring, stocks didn't just survive, they thrived! The S&P 500 (a blend of growth and value stocks) rose a strong 18.4%, and Fidelity's tech-heavy large-cap growth stocks more than doubled that, jumping 40.0%. I spent a fair amount of time last year explaining why the market was doing so much better than the economy. To be honest, I am a little worried that this year; I may be spending an equal amount of time explaining why the economy is doing so much better than the market. That said, I still think that stocks are the place to be this year. Let's examine what I see as a favorable backdrop for stocks as well as my concerns.
Favorable Backdrop For Stocks
There are a lot of reasons to favor stocks in 2021:
1.Extremely low interest rates now and for the next few years. Fed chair Jerome Powell said they will keep short-term interest rates near zero at least through 2023. And, they expect to continue buying $80 billion per month of Treasurys and $40 billion of mortgage securities until "substantial further progress" is made in employment and inflation. Powell also stated that they would increase those purchases if it became clear that the recovery was slowing. All things being equal, low interest rates make stocks more "valuable" as their future profits are worth more when discounted back to today at those lower rates.
2. TINA (there is no alternative [to stocks]) is still in play, with bonds offering little competition for stocks as the under 1% yield on the 10-year Treasury pales in comparison to the current 3.3% earnings yield on the S&P 500.
3. GDP has ample room to run. The recovery so far in many sectors of the economy has been impressive — close to the "V"-shape some bolder analysts predicted. But, the economy remains well below its full potential. There is some recent evidence of slowing (i.e. personal income growth is slowing and retail sales have declined for two months now) as the impact of the $2 trillion stimulus bill passed in late March begins to fade. However, Congress finally passed another, more modest ($900 billion) stimulus package which included $600 in direct payments to individuals. The House passed a bill to up that payment to $2,000, but its fate in the Senate remains in doubt as Republicans have opposed any increase. Even without that extra boost, this new stimulus will help until ...
4. Enough of us get vaccinated to allow shuttered areas of the economy to begin reopening, which will boost hiring and incomes naturally.
5. Analysts have stopped hedging. Most were too negative on how fast the economy could rebound from its pandemic-induced plunge and so significantly understated earnings forecasts for 2021. They have been busy raising them for they past few months.
What Makes Me Nervous
Of course, there are still many things that we don't know about the virus that could counter the positive backdrop for stocks. New, more contagious, mutations of the virus have appeared. Given how they work, it seems likely that the vaccines that have already been approved will still work against these new strains as their makers claim, but it remains to be seen. We do not know how long a period of immunity the vaccines give us. Nor do we know if enough people will take the vaccine to confer the herd immunity necessary for a return to a "normal" economy. And, of course, the whole process of getting the vaccine to everyone who wants it will probably take longer than currently expected.
But these concerns don't really keep me up at night; there are always risks in investing and these seem manageable. What does concern me, and the reason for the But… part of my headline are two things that are, not surprisingly, linked: increased speculative behavior and high stock valuations.
Increased speculative activity is evident on several fronts. IPOs that debuted in 2020 enjoyed strong rallies right out-of-the-box, with an average gain of 40% — a magnitude not seen since the dot.com era.
The advent of the "free" trading app Robinhood and its 13 million users, with an average age of just 31, is emblematic of an explosion of retail trading activity. The average number of daily trades at e-brokers has jumped more than 200% over 2019. Margin debt (borrowing to buy a security) is at an all-time high.
The late, great Sir John Templeton summed up a bull market's life cycle thusly: "Bull markets are born on pessimism, grown on skepticism, mature on optimism and die on euphoria." While the current speculative activity is worrisome, overall, I don't think we are near euphoria and the end of this bull.
More concerning is a significantly elevated P/E for the S&P 500 as shown below. At 27.3 (as of September 2020 the last full quarter) the P/E is well above the average of 19.5 over the past 25 years. And, given the market's strong performance in the last quarter of 2020, the P/E could rise to over 30.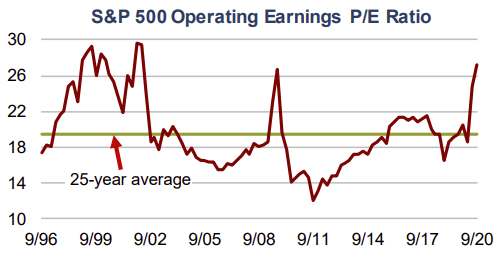 For the P/E to move back towards its historical level, earnings have to grow faster than the market, or decline less than the market. Obviously, we would prefer option 1. This is what happened the last time the P/E was in this range. At the end of the third quarter of 2009 (three months after the end of the 2008-09 recession) the P/E was 26.7. A year later, 12-month corporate earnings had nearly doubled, while the S&P 500 rose 8.0%, dropping the P/E all the way down to 14.5.
I expect something similar (though much less dramatic) to unfold in 2021. I look for corporate earnings growth to outpace the return of the S&P 500, as I believe that a good portion of the earnings growth for 2021 is already "priced-in." Right now, full year 2021 earnings are expected to be 38% higher than 2020, though, as noted earlier, those estimates continue to rise.
I look for something much more moderate than that for the market, in the range of 8-10%. A 10% gain would drop the P/E down to 24.6. Given today's 10-year Treasury yield of under 1%, that P/E is more reasonable than it seems when compared to the prior two occasions in which the P/E was that high; 2009 with a 10-year yield around 3.5% and 2002 when it was almost 5.5%.
Bond Returns May Lag In 2021
While low interest rates are great for stocks, they make life tough for bond investors. In 2020, rates fell around one percentage point on the long end and around one and a half percentage points on the short-end, which led to solid gains, especially for longer-duration funds which are more sensitive to interest-rate fluctuations. But in 2021, while we can expect very short-term rates to be unchanged (thanks to the Fed), if the economy improves (as we believe it will), then there could be some upward pressure on longer-term rates.
With that backdrop, we favor both staying with shorter-duration funds as well as those that take on a bit of credit risk (by holding some corporate bonds rather than Treasurys). Short-term Treasurys, however, are a reasonable portfolio diversifier as they still have a negative correlation to stocks (i.e. when stocks go down they usually go up).
Opportunity In Foreign Stocks
For years now, U.S. stocks have outperformed those from abroad and the dollar has largely increased in value, adding a headwind for U.S. investors looking overseas. However, after spiking higher in the early stages of the pandemic last year, the dollar steadily lost ground for the rest of the year. We expect that to continue in 2021, providing a tailwind for U.S. investors. In Europe, the economic recovery has been weaker than here at home, so the potential gains moving forward are greater. Also, Europe's economies are more tilted toward value sectors as compared to a growth tilt here. As the economic recoveries around the world pick up steam, more economically sensitive value stocks should benefit.
Heading Into 2021 At 50/50
Given our outlook, we are (after the trades in Nov/Dec) splitting the stock positions in most of our models roughly equally between growth and value. Value stocks are cheap and stand to benefit from an acceleration in the economy. While the growth stocks that led the way in 2020 won't see those huge gains again, the top firms there are simply some of the best companies in the world and are still capable of generating solid returns.
— John M. Boyd