Market Outlook
July 31, 2021
Will Earnings Growth Be Enough To Mitigate Rising Market Risk?

Did July 19 foreshadow trouble ahead?
Stocks briefly retreated that day amid concerns that the Delta variant might emerge into a second pernicious wave. But for two reasons the Dow's nearly 900-point pull-back was short-lived that week: 1. Investors reminded themselves that the U.S. economic recovery remains intact and; 2. Corporate profits are strong and are expected to stay that way.
To the first point, there's ample anecdotal evidence that our economic lives are better today than they were at any time during the prior 12 to 18 months. And there's plenty of quantitative data to back that up.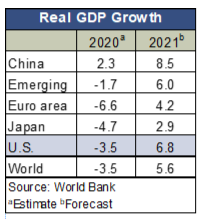 Eight of the Conference Board's 10 leading economic indicators (LEI) rose 0.7% in June. Granted, that's down from 1.2% in May. However, the closely watched metric of economic cycles accelerated in the second quarter. For the first half of 2021 the LEI rose 5.0%. If you're keeping score, that's 10% annualized. Not bad!
Other institutions also see improvement. The World Bank forecasts the global economy to expand 5.6% this year (though its outlook "remains subject to significant downward risks," particularly for developing economies with low vaccination rates). As for the U.S., it expects real growth to rebound 6.8% (which is in-line with the Conference Board's forecast). That's an upward revision from the 3.5% growth it forecasted at the start of the year — before vaccinations opened up the economy!
As to second-quarter earnings, they've been exceeding Wall Street's expectations by more than the usual margin. Big banks reported first in July and posted blowout profits. (Smaller reserve requirements helped, and so did trading revenues). Moreover, forward guidance points to better days ahead.
Blue chips reported next, and the likes of AT&T, Coca-Cola, Johnson & Johnson and Netflix did not disappoint. Then the FAANGs and Microsoft chimed in (all but Amazon reported boffo results). However, investor enthusiasm was restrained. Against the backdrop of the CDC talking about "masking," already-high valuations, supply-chain disruptions, chip shortages, and even the law of big numbers (growing sales and earnings at the same torrid pace), their post-reporting gains were muted.
Here's the bigger profit picture: As of July 23, FactSet indicated that among the 24% of S& 500 companies reporting actual Q2'21 results, nearly 90% surprised with higher-than-forecasted revenue and earnings growth.
Growing Concerns
Amid all this welcome news, there's the nagging concern that share prices have gotten too far ahead of earnings — especially at a time when other problems are emerging. Here's some perspective.
Over the past decade, the S& 500's average annual return was over 15% and its average price-to-earnings (P/E) has been 16.2.
Projecting earnings for the year ahead, the market's forward P/E is now 21.3. That stocks are expensive is not news. But as briefly seen last month, when stocks are priced to perfection they can be especially vulnerable to even the smallest unwelcome surprises.
One of the biggest is inflation, which is running at its highest rate in 13 years. (CPI rose to 5.4% in June, up from 5.0% the month before). A combination of pent-up demand, supply disruptions, rising food and energy costs, and even unprecedented monetary and fiscal stimuli are the culprits.
On the other hand, with long-term bond yields falling in June, some investors believe that inflation will wane. Want proof? Fidelity's most interest-rate-sensitive bond fund, Long-Term Treasury Index, jumped 3.6% in July!
While stocks are always climbing the proverbial wall of worry, this stands out: year-over-year, home prices soared 23.4%! Low mortgage rates and shifting work-from-home trends would not seem to justify such explosive growth.
With investors reminded in mid- July that stock prices can both rise and fall (to the tune of -2.1% one day), market volatility has nonetheless been tame. In fact, there hasn't been a significant pullback since October when the Dow fell 6% over four days. That's when a combination of resurgent Covid infections and election-eve jitters triggered some profit-taking.
Fast-forward to today's even higher valuations, and it's not hard to imagine how a bad economic datapoint combined with something unexpected from Washington, Beijing or simply a nefarious hacker in Moscow, might trigger a similar pullback.
That's why we diversify!
Housekeeping
As you read here last month, my friend and colleague of 25 years, John Boyd, has retired. I have big shoes to fill as his Market Outlook columns were always timely, thoughtful, well-researched and logical. He and Jack's constant reminders to stay in the market and manage risk have been central to our long-term success. Through innumerable bear and bull markets, that investment discipline has proven its value.
That isn't changing.
— John Bonnanzio