Market Outlook
January 1, 2023
Look For Stocks To Climb Multiple Walls Of Worry

"Never make predictions, especially about the future."
Notwithstanding Casey Stengel's wisdom, this is as good a time as any to make an optimistic call about the U.S. economy generally, and the financial markets, in particular. So with the broadest of brushstrokes, here's how I see 2023 playing out.
Mixed Signals
In the fourth quarter of 2022, S&P 500 earnings are expected to slow dramatically to -2.8% on a year-over-year basis. That decline is large enough to significantly undermine the quarterly growth rates of 9.5% and 5.8%, respectively in Q1 and Q2. (Yes, earnings rose even as the economy slipped into a mild recession.) Still, FactSet's survey of Wall Street analysts is calling for corporate earnings to achieve an annual growth rate of 5.1% for 2022.
Though that's below the 10-year average of 8.5% (2012 to 2021), it's still pretty strong considering that the economy faced considerable exogeneous geopolitical headwinds. Among the more notable, oil prices soared to nearly $125 a barrel in March (thank you, Mr. Putin) while supply chain disruptions were exacerbated by China's heavy-handed Covid crackdown (thank you, Mr. Jinping). Atop that were dramatically higher borrowing costs: the Fed hiked interest rates 425 basis points in just nine months (thank you, Mr. Powell).
While he and his fellow central bankers were late to respond to the earliest signs of inflation, the good news is that the Fed is now on the offensive: June's peak CPI of 9.1% has receded to 7.1%. And more importantly (from the Fed's perspective), the personal consumption expenditure index, or PCE, barely budged in November from October (up 0.1%). While the PCE rose 5.5% on a year-over-year basis, November was its fifth consecutive month of declines, suggesting that inflation has peaked.
Meanwhile, in the "bad news may be good news department," the Labor Department said that unemployment claims have risen to a 10-month high of 1.7 million. That also suggests that the Fed's rate hikes have been cooling the economy, which should lead to a slowdown in wage growth and ultimately a more tempered approach to tightening in 2023. Lest one forget, in December, the Fed raised rates 0.50%, which was less than each of its prior four hikes of 0.75%.
What's in store this year?
According to the Fed, it's not done. With rates currently in a range of 4.25% to 4.50%, it has signaled its intent to raise interest rates another 75 to 100 basis points (from 5.00% to 5.50%). And, of course, it will go further if inflation pressures reaccelerate which, as already noted, doesn't seem likely.
Now let's talk about economic growth.
Last year's first two quarters saw the U.S. economy (as measured by GDP) contract -1.6% and -0.6%, respectively. However, the third quarter rebounded sharply with growth of 3.2%. The fourth quarter, says Atlanta's Federal Reserve Bank, should be even stronger: up 3.7%.
Once again, that's the good news. The bad news is that optimism could evaporate in 2023.
Back in November, a survey of 38 forecasters by the Federal Reserve Bank of Philadelphia called for only 1.0% GDP growth last quarter and, for the first three quarters of 2023, year-over-year growth of just 0.7% (and 1.8% in 2024). Though economists' GDP forecasts always vary widely, most see unemployment rising this year as a consequence of Fed tightening, and more than a few see a replay of 2022 with recession early-on followed by an equally shallow recovery in the second half.
If that comes to pass, one can reasonably argue that the stock market baked that into share prices in December as the S&P 500 retreated over 5% and the Nasdaq Composite dropped nearly 9%. Suffice to say, a combination of slower GDP growth restrained by still-higher interest rates conspired in December to drive the S&P 500 back to early November levels. In other words, the "good news" is already baked into stocks.
How To Proceed
For starters, we have never been market-timers. In 35-plus years of navigating our way through multiple bear markets, we have always stuck to that core investment value, and have ultimately been rewarded for our patience. (The key to long-term investment success, we have long argued, is investing in accordance with one's risk tolerance.)
With that in mind, in the face of slowing economic growth, modest market gains are achievable this year. The facing chart is the basis for much of my optimism.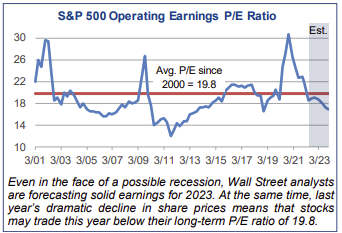 Presently, stocks seem fairly valued: the S&P's P/E ratio (price-earnings) of 19.1 is in line with its long-term average of 19.8. That may come as a surprise to some as, after all, the index lost 20% of its value last year. (Including dividends, it fell 18.1%.) So while P/Es have been falling dramatically from highs of around 30 (since late-2020), one can argue that only now are stocks priced appropriately given higher interest rates. Indeed, they certainly can fall further from here because the mood on Wall Street remains glum if, for no other reason, investors are not yet fully convinced that inflation is in sustained retreat and that the Fed won't overplay its hand. As to the latter, if the Fed is truly committed to its 2% inflation goal, interest rates above its stated target range may be necessary in 2023 and beyond.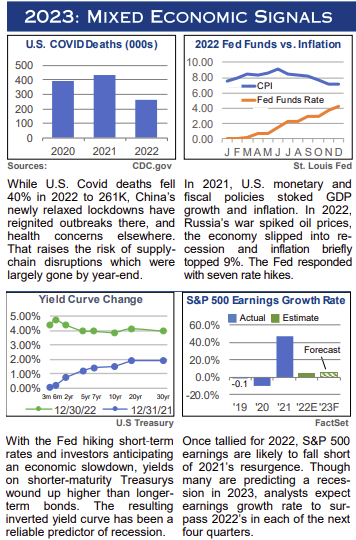 Even so, corporate America is preparing for slowing sales with the goal of boosting earnings.
Holding the line on wage growth is one way to boost bottom lines. Unfortunately, another is "right-sizing."
During the pandemic, technology, e-commerce and financial services businesses were inclined to increase headcounts. But in recent months, they've started to trim. While unemployment claims are now starting to rise, there are yet to be mass layoffs beyond those long in need of restructuring (such as Twitter). With that likely coming during the next two quarters, consumer sentiment may fall dragging down prices for everything from new and existing homes to various services. Assuming that oil prices remain range-bound, inflation will slow considerably, and another recession may be in the offing.
Now for the good news (as I see it). Let's remember that stock investors are anticipatory. To that end, I expect to see share prices starting to rebound even as the headlines stoke fear that the recession may worsen into a depression, or something equally worrisome.
It will not.
Long-term investors will look to the accompanying chart and realize that stocks have become less expensive on a forward basis because earnings growth is poised to improve later in the year. Indeed, if one waits for that news to become reality, the likelihood of enjoying the year's biggest move up will have been lost. To repeat, don't time this market. Better days are ahead.
— John Bonnanzio