Market Outlook
April 30, 2021
The Good Outweighs The Bad

From April 2020, the first month of recovery from the pandemic-induced bear market, through this April, the S&P 500 has risen almost uninterruptedly (10 of those 13 months were positive) reaping a 65% gain! But where do we go from here? Are further gains likely, or is this bull about to expire? Let's look at what I see as good in the current environment, versus what I see as potentially troublesome.
The Good
Earnings Are Surging. In the long-run it is earnings that drive stock prices and the outlook for earnings is excellent. As shown below, earnings are expected to rise fairly steadily through this year and next (the dip from the Dec 2021 quarter to the Mar 2022 quarter is largely seasonal in nature).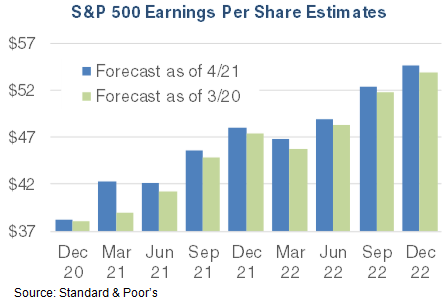 And as you can also see, analysts are still revising their earnings estimates higher across the board. Importantly, they jumped the most in the current quarter where visibility is the clearest.
This Fed Isn't Going Near The Punchbowl. Former Fed Chair, William McChesney Martin (1951-'70) stated that the Fed's job was to "take away the punchbowl" (raise interest rates) just when the party really gets started. Current Fed Chair Jerome Powell has made it abundantly clear that they will keep short-term rates unchanged at near zero through 2023, and will continue their buying of $120 billion of bonds each month for the foreseeable future. This is a powerful backstop for stocks.
The Economy Is Accelerating. Following the third round of stimulus checks in March, the downward trends in several indicators that I noted last month all reversed, and GDP for the first quarter was up 1.56% over 2020's fourth quarter (a 6.4% annualized rate — how GDP typically gets reported). And that was still held back by supply chain bottlenecks, which should begin to ease as global economic activity returns to a more "normal" footing.
The Bad
Cap Gains Taxes May Be Heading Higher. President Biden proposed raising the capital gains tax on investors earning more that $1 million from the current 23.8% up to 43.4%.
However, most expect that increase to be trimmed in negotiations (not just Republicans, but several Democrats oppose such a big jump) and stocks should be able to handle a not-too-onerous increase.
In fact, BMO Investment Strategy Group notes that stocks actually have done better in the years where we've had tax-hikes (average S&P 500 gain of 12.9%) than in those that didn't (9.3%), and substantially better than in years featuring tax cuts (4.6%).
Bullishness Is Above Average. Investor sentiment is a contrary indicator (if everyone is bullish who's left to buy?). According to the American Association of Individual Investors, bullishness has been above average for 22 of the past 24 weeks. However, that bullishness has eased over the past month, while bearishness has increased.
And it is not just sentiment, but actions. The Investment Company Institute estimates that since pulling over $340 billion out of stock mutual funds and ETFs in March of 2020, investors have poured $692 billion back in!
Valuations Are High. At the end of March, the S&P 500's P/E was 27.37, well above the 25-year average of 19.75. But, by the end of the year, 12-month earnings are projected to be 23% higher than today (March). Thus, assuming that earnings come in as forecast, any stock advance of less than 23% will mean a lower P/E. So there is room for further solid gains in stocks along with improving valuations.
On balance, I believe the data support higher stock prices going forward, though there may be some bumps along the way.
— John M. Boyd