Market Outlook
October 31, 2019
Stocks Climb Wall Of Worry

There was more hand-wringing over the state of the economy last month, as much of the data pointed to further weakness. Forecasts of third-quarter GDP fell from 2.2% to 1.6% (more on that later). But apparently, someone forgot to send the memo to the markets that a recession is nigh. Last month stocks rose solidly — pushing the S&P 500 to a new record high (and the Nasdaq followed suit on November 1). In addition, some investors have started to nibble a bit on cyclical (economically sensitive) stocks. (We just added to our cyclical exposure) This is exactly the opposite of what you would expect if the market was anticipating a recession.
So what is going on? Well, here are a few things the market may be digesting.
The Fed's Three Rate Cuts
On October 30, the Fed cut rates for a third time this year, all in the second half. An old Wall Street saying is "three steps and stumble," referring to the market turning down after three rate hikes. Does it work in the other direction — "three cuts and celebrate?" It seems so. LPL Financial took a look at what has happened after the Fed cut rates by 25 basis points three times in succession and found that, on average, the S&P 500 rose by 10% six months after the third cut and 20% after one year.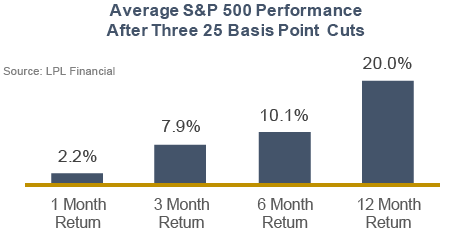 In particular, the last two instances 1995-'96 and 1998, are similar to today's situation, where problems abroad were in danger of spilling over into our economy and the Fed "took out insurance" to keep our economic expansion going. While those efforts were quite successful, one significant difference is the level of rates when the cuts began — 6.0% in 1995 and 5.5% in 1998 versus 2.5% last July. So the response this time may be more muted, but the point is that the market will still likely respond positively.
It takes time for Fed rate cuts (or hikes) to work their way through the economy, so we are likely just seeing the early stages of the benefits from the cuts. I've noted in the past how housing — one of the most rate-sensitive areas — has already begun to improve. And pending home sales suggest further gains in the months ahead.
Easing Trade Tensions
Trade negotiations with China took a positive turn in October, at least according to most commentators. However, I am less optimistic about the prospect of any real progress. So far it seems like China just keeps offering to buy more soybeans, in exchange for us dropping all tariffs. I think the news will turn negative again before any deal is reached and that could take a while.
Thin Reeds
The market may also be sensing that the manufacturing slump (which triggered recession fears) is nearing an end. Data for September offered up a few "thin reeds" in terms of flash (early) readings of Purchasing Managers Indexes (PMIs). The flash U.S. Manufacturing PMI came in at 51.5 versus 51.1 in August and the U.S. Manufacturing Output gauge came in at 52.7 versus 51.8. The improvements are slim but importantly the direction was up, not down, and both are above 50 (meaning expansion). Both readings are also at 6-month highs.
GDP Better-Than-Expected
At the end of October, the first estimate for third-quarter GDP came in at 1.9%, a small down-tick from the second-quarter's 2.0%, but much better than the 1.6% estimate just before the release. The aforementioned rebound in the housing sector contributed to economic growth for the first time in nearly two years. And importantly, consumer spending — John M. Boyd