Market Outlook
July 31, 2020
Stocks Notch Solid Gains Again: But Is The Rally Over?

The S&P 500 rose a strong 5.6% in July, the fourth straight monthly gain for the popular index. And (not surprisingly) warnings from pundits that this powerful rally will soon reverse are growing louder. Individual investors seem to be listening. A recent survey from the American Association of Individual Investors (AAII) showed that 47% of its members are bearish on the market over the next six months, nearly two standard deviations above the historical average of 30%! (A bullish contrary indicator by the way.) Should you listen, too, and bail on your stock funds? Let's step back and, pardon the pun, take stock of the situation.
Earnings Estimates For 2021 Stabilizing
The market has accepted (i.e. priced-in) that corporate earnings will be disastrous in 2020. Instead, the market is focused on 2021 earnings when, hopefully, the pandemic will be largely under control. Importantly, while earnings were sharply slashed earlier in the year as the scope of the pandemic began to emerge, in recent weeks, cuts have slowed dramatically. Indeed, with about 25% of the S&P 500 now having reported their second quarter earnings, 81% of firms have produced an upside surprise in their earnings, leading analysts to slightly raise their estimates on four of the next seven quarters. Full year 2021 earnings per share (EPS) are currently forecasted to be 48% higher than the extremely distressed level of 2020.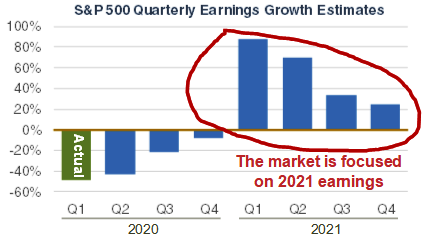 Now, you might be thinking that a 48% jump in EPS in 2021 seems improbable given the likelihood of an economy still not at full throttle. But, if we think like the market and ignore the depressed figures from 2020 while calculating the growth from 2019 to 2021, that figure drops to a very modest 2.7% gain!
While the economy is unlikely to be fully recovered by next year, it's encouraging to see that several sectors — from new homes to consumer goods — are experiencing a "V- shaped" recovery.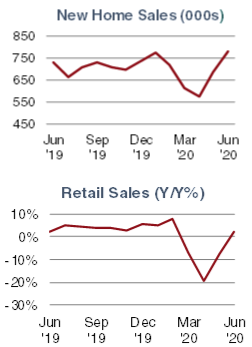 Lately, the year-to-date advance has been criticized because a few top tech names have accounted for the lion's share of the S&P 500's return. While that is true, it is interesting to note that on a recent week, no listing on the New York Stock Exchange registered a new 52-week low! This is a rare event and one most usually seen at the start of cyclical bull markets, not bear market rallies.
What Worries Me
Despite my expectation that the stock market has more room to run, I do have some areas of concern. Number one, of course, is the reacceleration in new cases of Covid as states started to re-open. An uptick in cases was expected, but record highs in daily new cases among several large states was not. In response, states either paused on re-opening plans or reintroduced restrictions. Clearly, if cases soar every time we try to loosen restrictions, it will mean a much slower economic recovery.
However, it's not at all clear that the recent surge in cases was (primarily) a result of loosening. There have been no instances of states that were devastated early on with huge numbers of cases like New York, then brought them down low, only to see them spike again to new records. In fact, all the states that just experienced record highs in new cases had been mostly spared serious infection rates until now. This suggests that the lightly-affected states were just the beneficiaries of randomness/luck in the spread of the virus early on, and that luck has run out.
The jobs picture also looks less bright. Since a massive six million people lost their jobs in back-to-back weeks four months ago, new job losses had moved steadily downward. But for the last eight weeks, job losses have remained stubbornly high at around 1.3-1.5 million per week. I would like to see that figure start to come down more significantly again.
Valuations are high. As I write this, the 12-month trailing P/E for the S&P 500 is 26.8 vs. 18.6 at the end of March. However, it is not unusual to have P/Es rise sharply coming out of recessions as stocks typically start to rally before it is clear that the economy has turned up. The last time we had a P/E this high? Three months after the official end to the Financial Crisis recession. I seem to remember that the stock market did pretty well after that.
— John M. Boyd