Market Outlook
September 30, 2019
A Funny Thing Happened On The Way To A Recession ...

Amid all the clamor of pundits blaring "a recession is coming," the economy likely got a bit better in the third-quarter! The Citibank Economic Surprise Index indicates that recent economic data have been coming in better-than-expected. As a result the average forecast for third-quarter GDP growth is now 2.2% versus the second-quarter's 2.0%.
One example is the rebound in the housing sector. Helped by low mortgage rates, in August, new home sales jumped 18% from a year ago. And it's not just a one-month blip. So far this year, sales are running 6.6% higher than last year and are 15.1% higher over the last three months. In addition, housing starts were up 6.6% in August versus a year ago and new permits rose 7.4%.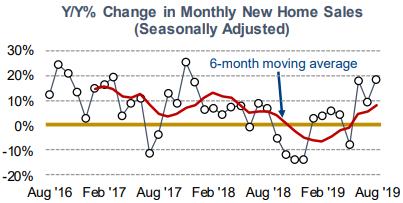 The three-month moving average of the Chicago Fed National Activity index continues to trend higher. The latest reading is now -0.06 or close to normal growth (0.0 indicates that the economy is expanding at its historical trend rate of growth).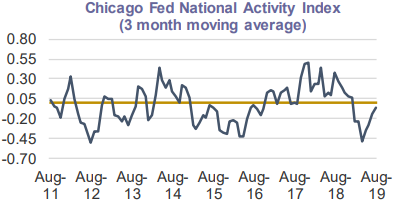 Other positive surprises include the beleaguered manufacturing sector which saw industrial production rise 0.6% in August, the biggest jump in a year and the third increase in the past four months.
Many Indicators Are Not Forecasting A Recession
We have heard ad-nauseum about how the inverted yield curve is forecasting a recession. But according to ANG Traders, many other leading indicators are not signaling a downturn. Returning to the housing data, as I noted, starts are moving higher. Before every recession since 1960, they have declined, typically quite sharply.
Initial claims for unemployment start to rise, again often sharply, about a year before recessions. Today they are still declining.
Delinquency rates on commercial loans are another leading indicator as they begin to rise well prior to the onset of a recession. Currently they are falling. Relatedly, banks typically start tightening lending standards prior to recessions. As you might guess by now, they are currently being loosened.
Lastly, since 1990, recessions have been preceded by a drop in the labor participation rate. Instead, the participation rate has been rising fairly steadily for several years. Of course, not all areas of the economy are doing well. Manufacturing remains a key weak spot.
And we continue to take modest steps to reduce risk in our portfolios. But the preponderance of evidence suggests that a recession is not imminent and we believe stocks will eventually move higher.
— John M. Boyd