Market Outlook
October 31, 2020
The Market Is Following The Script … So Far

Last month I wrote that we could have a volatile few months in the market owing to two main factors: rising Covid cases with the onset of cooler weather, and a lack of a second round of stimulus from Congress. That turned out to be an accurate description of October, which featured some big down days late in the month as Covid cases soared in Europe and a second stimulus package remained stuck in the political mud. (Though admittedly it didn't take the estimable powers of Carnac the Magnificent to get those predictions right.)
Importantly, I also argued that these issues would eventually be overcome and the longer term outlook was positive. That part of my forecast, of course, remains to be seen. Let's re-examine the evidence.
Wholesale U.S. Lockdowns Unlikely
New Covid cases are rising fast in Europe. For example, in France, the seven-day average of new cases as of Oct. 28 was 39,673, almost 9 times higher than the peak of 4,537 in last April's "first wave!" This prompted France's president Emmanuel Macron to order a nation-wide lockdown for at least a month, requiring people to stay in their homes as all non-essential businesses will be closed. Seven-day averages of new cases in Germany have more "modestly just doubled" from their highs of the spring and Chancellor Angela Merkel put some less severe restrictions in place. Both leaders stressed that schools and factories would remain open to cushion the economic blow. (New cases in Spain have also doubled and the UK splits the difference with a four-fold jump.)
Here at home, new cases have also about doubled from April's high of around 32,000 to 75,323 on Oct. 28 (we also had a secondary spike in July to about 69,000). However, I do not foresee the reimposition of widespread lockdowns in this country. The consensus seems to be that broad-based lockdowns do a lot of economic damage, while more targeted restrictions offer much the same health benefits with less economic pain.
Stimulus Bill Will Get Done
Regardless of who wins the presidential election, and who controls Congress, I expect a new stimulus bill to be passed soon afterwards. If President Trump is reelected, he has promised that "after the election, we will get the best stimulus package you have ever seen." And for her part, House Speaker Nancy Pelosi said she's confident Democrat Joe Biden will win the election, and she wants to reach an agreement before he potentially takes office.
More Economic Strength
Last month I noted the strength in housing and durable goods orders and they continue to flourish. Other areas are joining in. Despite the lack of a second stimulus check, overall, the consumer is in excellent health. Compared to a year ago, credit card spending is up, but importantly not from increased borrowing — credit balances are down from a year ago. Retail sales have risen for five straight months, easily passing their pre-pandemic level. And the average consumer credit score is at its highest level in history. Initial claims for unemployment, while still orders of magnitude greater than before the pandemic, have started coming down again.
Hidden Market Indicator?
You probably haven't noticed it, but small-cap stocks have outperformed larger-cap fare since the market bottomed at the end of March (see chart). It certainly would not have been obvious by looking at the slew of large red numbers in the YTD column for small-cap funds in last month's Scorecard. But that YTD figure was a result of some truly horrid declines in March. Since then, however, small caps have rebounded 43.8%, while large caps have bounced back 38.5%.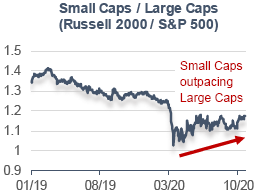 Why do I bring this up? Small caps are more economically sensitive than their larger brethren. They tend to do best when the market is exiting a recession, so their strong performance since March is another sign that the economy is getting better. This month we raised our ratings on several small-cap funds (see page 5.)
Don't Time The Market
Constantly hearing about the rise in new Covid cases, combined with the real human toll on health care workers and their families and on patients and their families, can make one simply despair and just want to sell out and wait for better times. In a word, don't!
Robert Schiller of Yale has been surveying investors for over two decades asking what they thought was the probability of a stock market crash (like 1929 or 1987) in the next six months. In August, the result was a record 87%!
However, sentiment is often a contrary indicator and that seems to be the case here. Mark Hulbert of MarketWatch looked at the 10% of readings where crash expectations were the highest versus the 10% lowest expectations. When crash fears were the highest, the average S&P 500 total return over the next two years was 45.5%! For the lowest crash expectations it averaged just 10.6%. Stay calm and stay invested.
— John M. Boyd