Try A Free Sample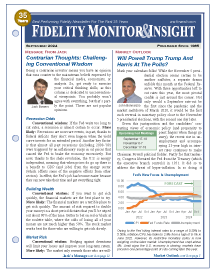 Become a Better Investor with Fidelity Monitor & Insight!
How do you know which Fidelity funds to buy?
If you're like most people, you have better ways to spend your time than rifling through SEC filings, prospectuses, statements of additional information, quarterly fund filings and interviewing Fidelity's fund managers.
We do have the time and the expertise to thoroughly analyze Fidelity's 200+ funds and help our readers make bigger profits, with more consistency, and with greater safety than ever before... GUARANTEED!
View a sample Fidelity Monitor & Insight report.
Join Today ... YOU SAVE 98!

Typically, a one-year membership gives you access to all these features for just $267. As a new member you save nearly $100! just for giving us a try. That's 12 months for JUST $169! And it's 100% risk-free.
If within your first 3 months you don't think we're for you, just let us know and we'll promptly refund every penny you've paid. Decide to leave us after that, and we'll send you a refund on any remaining months of your membership.
SIGN UP NOW!